ON DRAGON TRIAL (07 DAYS)
The point when you step out of Paro Airport, will be the start of the 7 Days Cultural Tour that gives you a complete idea of Bhutan.
DETAILED ITINERARY
Day 1: Arrive Paro
Flying into Bhutan through Drukair will be wonderful start of your trip to Bhutan.Your journey to Bhutan will be wonderful with exciting scenery of foothills, green vegetation and landscape and Himalayan mountains covered by snow. With an exciting journey, you will finally reach to your much awaited destination, Bhutan.
On arrival at Paro airport, you will be met by our representative. On completion of airport formalities, you will be transferred to the hotel. Evening take a stroll around town's main street. Overnight at the hotel in Paro.
Day 2: Paro
After breakfast, take an excursion to Taktsang Monastery, the most famous of Bhutanese monasteries. It is said that Guru Rinpoche arrived here on the back of a tigress and meditated at this monastery hence it is called "Tiger's Nest". The excursion to monastery takes about 5 hours for round trip.
After lunch, visit Ta Dzong, the National Museum. The museum collection includes ancient Bhutanese art and artifacts, weapons and country's exquisite postage stamps. Then walk down the trail to visit Rinpung Dzong situated at commanding height, overlooking Paro valley. This Dzong is symbolic as the religious and secular centre of all affairs of the valley.
In the evening, visit a traditional farm house which offers good insight into lifestyle of local people. Overnight stay at the hotel in Paro.
Day 3: Paro – Punakha, 125 km, 4.1/2 hours
After breakfast drive to ruins of Drukgyel Dzong. From this fortress, Bhutanese repelled several invading Tibetan armies during the 17th century. Then visit Kichu Lhakhang, one of the oldest and most sacred temples of the Kingdom.
After that drive to Punakha with a short stop at Dochula pass (3,080m) stopping briefly here to take in the view and admire the chorten, mani wall, and prayer flags which decorate the highest point on the road.
Later visit Punakha Dzong, built strategically at the junction of Pho Chhu and Mo Chhu rivers in 1637 by Zhabdrung Ngawang Namgyal to serve as the religious and administrative centre of the region. Punakha Dzong has played an important role in Bhutan's history. Damaged by four catastrophic fires and an earthquake, the Dzong has now been fully restored.
Evening visit to local market. Overnight at the hotel in Punakha.
Day 4: Punakha – Wangduephodrang – Thimphu, 90 km, 3 hours
After breakfast, drive to Wangduephodrang, visit the ruins Dzong of Wangdu and local market.
In the afternoon, drive to Thimphu, the capital town of Bhutan. It will take about 3 hours drive to reach there. Overnight stay at the hotel in Thimphu.
Day 5: Thimphu
In the morning, visit to Trashichhodzong, the beautiful medieval fortress/monastery which houses most of the Government's office and King's Throne room. It is also the summer residence of Je Khenpo, the Chief Abbot.
Bhutan's National Library is located close to the Thangkha painting school and contains arguably the best collection of religious and historic literature in the Himalayas. The country has its own brand of Himalayan medicines and this can be seen at the Indigenous Hospital. The Textile and Folk Heritage Museum opened in year 2001 is fascinating testimony of the Bhutanese material culture and living traditions. The Memorial Chhorten, a pious landmark for Thimphu's residents, was erected in 1974 by the mother of Third King, in memory of her son. After that,visit the Handicrafts Emporium which displays wide assortment of beautifully hand-woven and crafted products.
Overnight at the hotel in Thimphu.
Day 6: Thimphu – Phuentsholing, 179 km, 6 hours
After breakfast, drive to Phuentsholing en route visit Simtokha Dzong, the oldest fortress of the Kingdom built in 1627, which once houses the School for Buddhist studies. The drive on this route is very pleasant with numerous scenic spots en route.
Just before, arriving Phuentsholing, visit Kharbandi Goemba, the monastery built in 1967. It houses the large and attractive statues of Sakyamuni, Zhabdrung Ngawang Namgyal and Guru Rinpoche.
Overnight at the hotel in Phuentsholing.
Day 7: Phuentsholing – Siliguri, 160 km, 4 hours
After breakfast drive to Siliguri passing through lush green tea gardens enroute. Our representative will bid you farewell.
MAP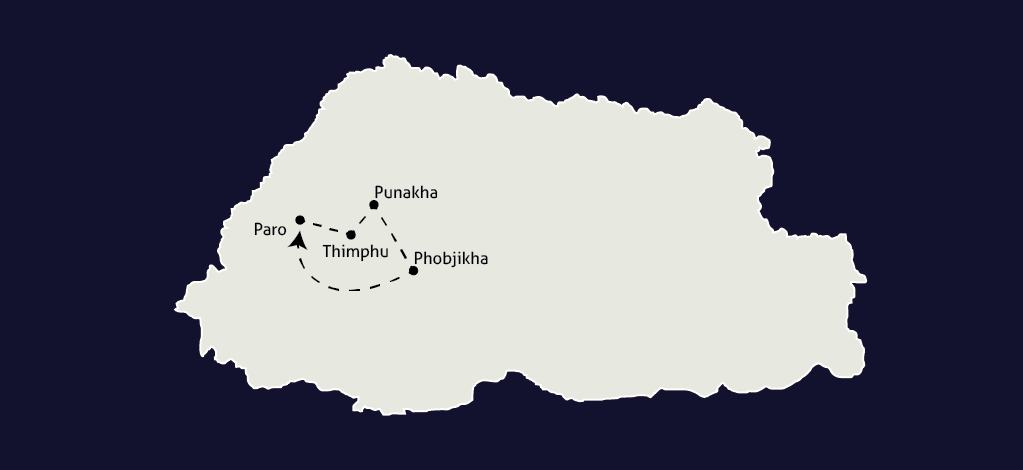 WHATS INCLUDED
Private guided tour 
 Visas for Bhutan 
 Airport transfers 
 Daily 3 meals 
 3 star accommodation 
 A qualified & licensed English-speaking guide 
 An experienced driver 
 A tour vehicle 
 Entry fess & road permits 
 Taxes & surcharges 
 Mineral water 
 Set of traditional costume (to be return at the end of your stay) 
WHAT'S EXCLUDED
 Flight into Bhutan via Drukair (can be arranged with us) 
 Flight on other airline to catch Drukair Flight 
 Meals at 4-5 stars restaurants 
 Hotel stay outside of Bhutan 
 Expenditure of personal nature 
 Travel Insurance (can be arranged with us) 
 Tips for the guide and driver 
 Alcoholic drink