DAGALA THOUSAND LAKES TREK (10 DAYS)
Duration: 6 days, Max. Elevation: 4,520m
Seasons: April to June & Sept to Oct.
Start: Gynekha (Thimphu)
Finish: Chamgang (Thimphu)
This six day trek takes you into an area adorned with a multitude of pristine, crystal clear lakes. As you walk amidst the shimmering lakes you'll be treated to stunning views of the entire Himalayan mountain range and some of the world's highest peaks including Mt. Everest, Jomolhari, Masang Gang, Jichu Drake, Gangche Ta and many more.
During the trek an entire day will be dedicated to visiting some of the more picturesque lakes, fishing and resting. The trail also takes you through several Bhutanese villages so you can get a good idea of traditional Bhutanese village life as you make your way back from the lakes.
While this is a somewhat strenuous trek, it is well worth the effort because of the tranquility and beauty of natural landscape that you will enjoy during the journey. The best time to embark on this trek is between April-June or September –October.
DETAILED ITINERARY
DAY 1: GYNEKHA – GUR
Distance 7 km, 5 hours, 550 m ascent, 210 m descent, camp altitude 3,290 m. The trek starts at beautiful Gynekha village and begins with a short descent to the river. After crossing the river you start climbing until you reach a huge rock platform from where you have a picturesque view of the valley and After another two hours of trekking you will reach your campsite at Gur (3,290m), amidst abundance of wild flowers.
DAY 2: GUR – LABATAMA
Distance 12 km, 5 hours, 1,220 m ascent, 110 m descent, camp altitude 4,300 m. On the second day, the trail takes you across the high ridges from where you can truly appreciate the rugged beauty of your surroundings and the mountain vegetation. The path winds through refreshing meadows  which freshens your mind. Weaving through tiny streams, you will climb gently through scattered birches and rhododendrons to arrive at Pagalabtsa pass (4,250m) marked by huge cairns. From the pass, you will have spectacular views of Kanchenjunga (Sikkim) and most of the Bhutanese Himalayan peaks. Descending from the pass one will view whole Dagala range meadows and yak herders camp. Lunch at nearby yak herder's camp. You will descend into the Labatama valley and then ascend gradually through the valley passing some yak herder huts till you reach Utsho Lake (4,300m) where golden trouts are in abundance. Our campsite is right next to the lake.
DAY 3: LABATAMA
This day will be dedicated to relaxing and recuperating at Labatama. It is an ideal to taker an excursion to any of three nearby lakes: Reli Tsho, Hen Tsho and Jama Tsho. Hikers are encouraged to take the opportunity to engage in some trout fishing as the location is ideal. These lake are full of trouts and your trekking leader will tell you mystic stories about these lakes. Lunch by the lakeside with spectacular view around can be a memorable experience. After lunch, you can also attempt to climb the Jomo peak at an altitude of 5,050m. Return to camp by dusk and prepare for the next day.
DAY 4: LABATAMA – PANKA
Distance 8 km, 6-7 hours, 260 m ascent, 520 m descent, camp altitude 4,000 m. The trail climbs along the western side of Dala Tsho up to a saddle at 4,520m. From here onwards you will have a fantastic view of the majestic Himalayan peaks all through the descent. The mountain peaks visible such as Everest (Nepal), Kanchenjunga (Sikkim), Masangang, Tiger Mountain, Tsendagang and Jichu Drake in Bhutan. From the saddle the path descends, passing some yak herder huts to Doccha Chuu River. You will follow the river for a while, staying higher up on the slope until you reach Panka. Here the Himalayan monal peasants are common sight, besides yaks and horses. We will camp at Panka (4,000m).
DAY 5: PANKA – TALAKHA
Distance 8 km, 5-6 hours, 180 m ascent, 110 m descent, camp altitude 3,080 m. This day entails the crossing of several passes but none of them require a major climb. You should keep your eyes open for different varieties of blue poppy (June-July) and mountain birds while in this area. . Lunch at the point, where one trail leads to Talakha and other to Wangduephodrang. After lunch, an hour's gradual climb brings you to the last pass, Tale La (4180m) from where the views of Dagala range and Thimphu is superb. Start a long descent through forest of spruce, birch, juniper and rhododendrons to Talakha Goempa (3080m).
DAY 6: TALAKHA – CHAMGANG
Distance 6 km, 3 hours, 440 m descent. From the monastery it's a short walk down to the feeder road which will lead you to the village of Chamgang.
MAP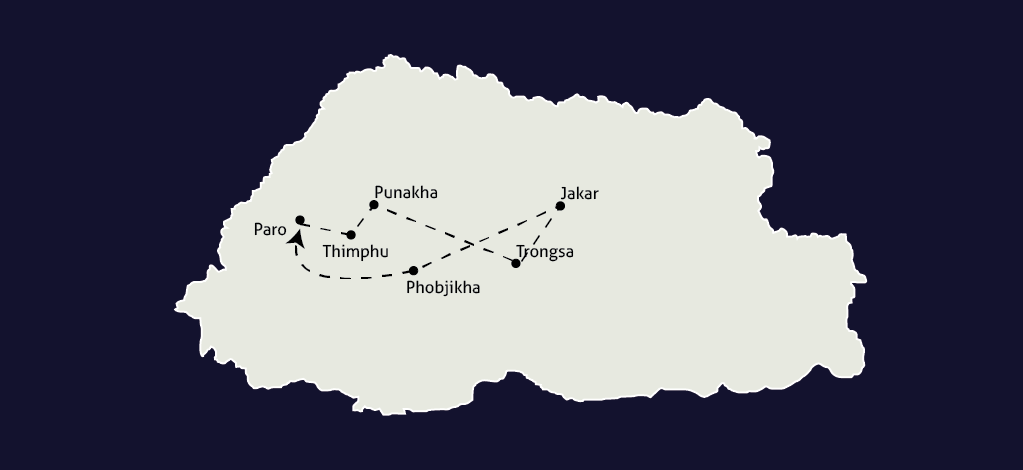 WHATS INCLUDED
Private guided tour 
 Visas for Bhutan 
 Airport transfers 
 Daily 3 meals 
 3 star accommodation 
 A qualified & licensed English-speaking guide 
 An experienced driver 
 A tour vehicle 
 Entry fess & road permits 
 Taxes & surcharges 
 Mineral water 
 Set of traditional costume (to be return at the end of your stay) 
WHAT'S EXCLUDED
Flight into Bhutan via Drukair (can be arranged with us) 
 Flight on other airline to catch Drukair Flight 
 Meals at 4-5 stars restaurants 
 Hotel stay outside of Bhutan 
 Expenditure of personal nature 
 Travel Insurance (can be arranged with us) 
 Tips for the guide and driver 
 Alcoholic drink 
ON TREK INCLUDES
Sleeping tents
 Dinning tents
 Toilet tents
 Shower tents
 Toilet seats 
 Mats
 Duffel bags
 Cooking untensils
 All meals
 Guide
 Trek chef assistant and horses 
PACKING LIST FOR TREK
Technical clothing
Down parka
Warm fleece jacket
Comfortable trekking boot (we like lowa)
Lightweight shoes
Rain gears
4 pair trekking socks
2 long sleeve capilene shirts
2 capilene bottoms (mid & heavy weight)
2 trekking shirts (non-cotton is best!)
Trekking pants (zip off shorts are nice)
1 pair shorts
1 bandana
Warm gloves
Flip flop (or similar camp shoes)
Warm hat
Sun hat
2 pair sunglasses
Equipment
Small daypack
Waterproof duffel for gear
Warm sleeping bag (negative 8-10 degree celcius)
Trekking poles
Mud guard
Headlamp and a normal torch
Camera and extra batteries
Earplugs
2-liter water bottle (if camelback, bring also a nalgene)
Insulated drinking mug
Small towel
Rain gears
Various size plastic bags to keep gear dry and separate
Others
Anti bacterial hand gel for disinfecting hands
Medical kit that includes – aspirin, motion sickness tablets,
cough drops, diamox, bites/burn cream and small bandage.
Lightweight toilet articles (shampoo, soap-travel size)
Sunscreen, lip screen and insect repellent
Water purification tablets (iodine or chlorine)
High calorie snacks and energy bars
Prescription medications
Some books to read at camp
Breakfast: Toasts, eggs, fruit juice, tea and coffee, some additional proteins such as sausages and hams. Oatmeal, drinking chocolates, baked means, peanut butter are also served.
Lunch: Rice, nodules, vegetables, meat, fruits, boiled egg or potatoes, juices, hot tea and coffee.
Dinner: Rice, chicken, fish, pork or beef, soup, tea and coffee. Local dishes such as momos, noodle thukpa, and emadatse (chilly-cheese) is served.
Water: Boiled water is supplied on trek.