Duration: 7 days, Max. Elevation: 4,220m
Seasons: March to June & Sept to Nov
Start: National Museum in Paro
Finish: Mothitang (Timphu)
The six day trek is the most popular trek in the country as it passes through a gorgeous natural landscape of blue pine forests, high ridges and pristine lakes while at the same time offering the opportunity to visit some ancient lhakhangs, dzongs and villages.
The Druk Path Trek is also a fairly easy hike to undertake as the distances between rest camps is fairly short. The trail takes you through forests of fir, blue pine and dwarf rhododendrons at altitudes ranging between 2400-4200 m. On the third day hikers will arrive at Jimiling Lake, whose crystal clear waters are home to gigantic trout.
This trek also offers hikers stunning views of Mt. Gangkar Puensum, the highest unscaled peak in the world. The best times to embark on the Druk Path Trek are between March-June or September-November.
DETAILED ITINERARY
DAY 1: PARO – JILI DZONG
[Distance 7 km],[ 4-5 hours], [1,020 m ascent], [20m descent],[camp altitude 3,480 m]. The first day can be quite arduous as you have to climb more than 1,000m elevation. You start from the Ta Dzong (National Museum) in Paro. The trek follows a gravel road past a few farms for about 30 minutes and then climbs up.
DAY 2: JILI DZONG – JANGCHULAKHA
[Distance 10 km][, 4-5 hours], [305 m ascent], [80 m descent],[ camp altitude 3,760 m]. You begin with a steep climb for about an hour and a half, then the slope evens a bit and the ascent is more gradual. The trail takes you through thick alpine forests and dwarf rhododendron tress. We continue our up hill walk to reach a yak herders' pasture at Jangchulakha (3,780m) with outstanding views of the Himalayan range. We camp in a yak pasture near the hillside for the night.
DAY 3: JANGCHULAKHA – JIMGELANG TSHO
]Distance 11 km],[ 4 hours],[ 330 m descent], [360 m ascent],[ camp altitude 3,860 m]. The trail follows a ridge and on a clear day the view of the mountains and valley are simply stunning.Near the camp, you can have great views of Jichu Drake(6986), the peak representing the protective deity of Paro. Overnight camp close to Jimilangtsho Lake. This lake is known for its giant sized trout.
DAY 4: JIMGELANG TSHO – SIMKOTRA TSHO
[Distance 11 km],[ 4 hours], [720 m ascent],[ 200 m descent], [camp altitude 4,110 m]. The trail takes you through dwarf rhododendron trees and past Janetso Lake. You may come across some yak herder camps where you will have the opportunity to get a glimpse of a nomad's life. The campsite is close to Simkotra Tsho.
DAY 5: SIMKOTRA TSHO – PHAJODING
[Distance 10 km], [3-4 hours],[ 130 m ascent],[ 680 m descent], [camp altitude 3,750 m]. The day begins with a gradual climb. If the weather permits, you will have a spectacular view of Mount Gangkar Puensum, the highest mountain in Bhutan and several other Himalayan peaks.
DAY 6: PHAJODHING – MOTHITANG
[Distance 4-5 km], [3 hours], [1,430 m descent].You will then descend to another small lake and then climb to the Phume La pass (4,220m) which is adorned with beautiful prayer flags and after passing Phadjoding monastery(3,790m), the trek to Thimphu (Mothitang) is downhill through a forested area of mostly blue pine. The walk, at a leisurely pace, takes about three hours.
MAP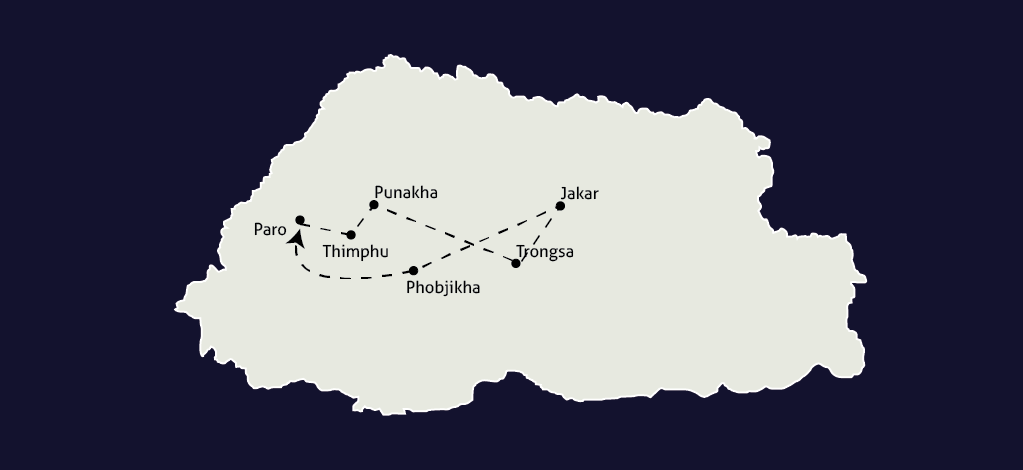 WHATS INCLUDED
Private guided tour 
 Visas for Bhutan 
 Airport transfers 
 Daily 3 meals 
 3 star accommodation 
 A qualified & licensed English-speaking guide 
 An experienced driver 
 A tour vehicle 
 Entry fess & road permits 
 Taxes & surcharges 
 Mineral water 
 Set of traditional costume (to be return at the end of your stay) 
WHAT'S EXCLUDED
Flight into Bhutan via Drukair (can be arranged with us) 
 Flight on other airline to catch Drukair Flight 
 Meals at 4-5 stars restaurants 
 Hotel stay outside of Bhutan 
 Expenditure of personal nature 
 Travel Insurance (can be arranged with us) 
 Tips for the guide and driver 
 Alcoholic drink 
ON TREK INCLUDES
Sleeping tents
 Dinning tents
 Toilet tents
 Shower tents
 Toilet seats 
 Mats
 Duffel bags
 Cooking untensils
 All meals
 Guide
 Trek chef assistant and horses 
PACKING LIST FOR TREK
Technical clothing
Down parka
Warm fleece jacket
Comfortable trekking boot (we like lowa)
Lightweight shoes
Rain gears
4 pair trekking socks
2 long sleeve capilene shirts
2 capilene bottoms (mid & heavy weight)
2 trekking shirts (non-cotton is best!)
Trekking pants (zip off shorts are nice)
1 pair shorts
1 bandana
Warm gloves
Flip flop (or similar camp shoes)
Warm hat
Sun hat
2 pair sunglasses
Equipment
Small daypack
Waterproof duffel for gear
Warm sleeping bag (negative 8-10 degree celcius)
Trekking poles
Mud guard
Headlamp and a normal torch
Camera and extra batteries
Earplugs
2-liter water bottle (if camelback, bring also a nalgene)
Insulated drinking mug
Small towel
Rain gears
Various size plastic bags to keep gear dry and separate
Others
Anti bacterial hand gel for disinfecting hands
Medical kit that includes – aspirin, motion sickness tablets,
cough drops, diamox, bites/burn cream and small bandage.
Lightweight toilet articles (shampoo, soap-travel size)
Sunscreen, lip screen and insect repellent
Water purification tablets (iodine or chlorine)
High calorie snacks and energy bars
Prescription medications
Some books to read at camp
Breakfast: Toasts, eggs, fruit juice, tea and coffee, some additional proteins such as sausages and hams. Oatmeal, drinking chocolates, baked means, peanut butter are also served.
Lunch: Rice, nodules, vegetables, meat, fruits, boiled egg or potatoes, juices, hot tea and coffee.
Dinner: Rice, chicken, fish, pork or beef, soup, tea and coffee. Local dishes such as momos, noodle thukpa, and emadatse (chilly-cheese) is served.
Water: Boiled water is supplied on trek.