Duration: 9 days, Max. Elevation: 4,890m
Seasons: April to June & Sept to November
Start: DrukgyelDzong (Paro)
Finish: DrukgyelDzong (Paro)
Jomolhari Trek is longer than the Jomolhari Loop – the most popular trekking routes in Bhutan. With altitude differences of 2,500m and nearly 5,000m it offers a wide range of landscapes, fauna and flora. The highlight of this trek is the spectacular view of Mount Jomolhari from Jomolhari Basecamp (Jangothang).
DETAILED ITINERARY
DAY 1: GUNITSAWA VILLAGE – SHARNA ZAMPA
[50mins], [70m descent], [camp altitude 2,880m]. This trek begins at Gunitsawa Village were you pass the army post. At the army checkpost your trek permit (provided by your tour operator) will be checked and endorsed. The campsite is on the opposite side of the river, not far from Gunitsawa. This is the last stop before Tibet and border close to it. You will then cross Pachu River on a wooden bridge and then climb to Sharna Zampa at 2,880m. Just beyond Shana Zampa, there are several meadows surrounded by trees where you will camp for night.
DAY 2: SHARNA ZAMPA – THANGTHANGKHA
[Distance 20 km], [7-8 hours], [ 680m ascent], [20m descent],[ camp altitude 3,710m]. On this long day, the trail continues with lots of small ups and downs. After going uphill through the river valley the valley finally narrows gradually to a mere path which descends to a meadow where a hot lunch will be served after crossing the bridge towards the left side of the river. Little ahead is the trail junction – left an old trade route and invasion from Tibet and right leading to the wooden bridge (we follow the right). After climbing up through rhododendron forests and finally crossing the bridge again, we reach our camp at 3710m, which is amidst beautiful meadows.
DAY 3: THANGTHANGKHA – JANGOTHANG
[Distance 19 km],[ 5-6 hours],[ 370m ascent], [camp altitude 4,060m]. If you did not see Mt. Jomolhari the previous evening, you will still have a chance to get a great view early this morning. This morning the trek continues up the Paro Chhu valley which widens into patches of alpine meadow and  we walk our final approach across a plateau and up a stream bed and Dangochang village to the awesome campsite of Jangothang at an altitude of 4,060m. From here, the views of Mount Jumolhari(7,327 m) and Jichu Drake(6,664 m) are superb.
DAY 4: JANGOTHANG HALT
The rest day in Jangothang provides plenty of possibilities for day hikes with great views of lakes and snow capped mountains such as Jomolhari and Jichu Drake. There are good chances to spot some blue sheep on the upper slopes of the valley. Jangothang is a perfect environment for your acclimatization and exploration.
DAY 5: JANGOTHANG – LINGSHI
[Distance 16km], [6-7  hours], [720m ascent], [960m descent], [camp altitude 3,950m]. The trail leads to a last settlement in the valley and drops to the Paro Chhu. Passing the lake of Tshophu (4,380m) you will climb up steeply to Bhonte La pass at 4,890 m, the highest point of this trek rout then walk towards the valley, almost flat for a while, until you climb to the Ngye La pass at an altitude of 4,600m. After the pass, it is a gradual descent to the camp, enjoying the panoramic view of the surrounding peaks and Lingshi Dzong.
DAY 6: LINGSHI – SHODU
[Distance 22km],[ 8-9 hours], [640m ascent],[ 720m descent], [camp altitude 4,090m].The trail climbs up to the Yelila pass at an altitude of 4,810m. From the pass, on a clear day you will get an excellent view of Jumolhari, Tserimgang and Masanggang. Descend alongside a stream to a shelter, and then further downstream to a camp at Shodu (4,090m), a meadow with a Chorten.
DAY 7: SHODU – BARSHONG
[Distance 16km],  [470m descent], [camp altitude 3,700m]. The trail follows the Thimphu Chhu through rhododendron forests, past beautiful waterfalls along the way. The valley narrows till the path takes to the slopes and gradually ascends to the ruins of Barshong Dzong.
DAY 8: BARSHONG – DOLAM KENCHO
[Distance 15km], [5-6 hours],, [340m descent], [camp altitude 3,430m]. The trail descends down to the Thimphu Chhu river valley, through dense forests of rhododendron, birch, conifer, maples and bamboos and then ascends to pasture lands. The a camp among pastureland at 3,430m.
DAY 9: DOLAM KENCHO-DODENA-THIMPHU
[Distance 8km],[864m descent].The trail goes in and out steeply to the river and follows it southward to the road head at Dodena, elevation 2,600m where you will be picked up by SP Travelers transport to drive to Thimphu
MAP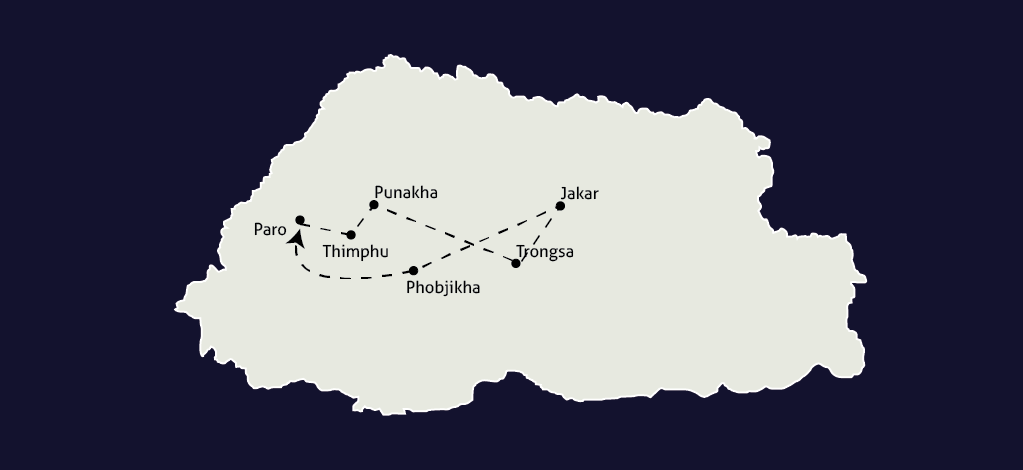 WHATS INCLUDED
Private guided tour 
 Visas for Bhutan 
 Airport transfers 
 Daily 3 meals 
 3 star accommodation 
 A qualified & licensed English-speaking guide 
 An experienced driver 
 A tour vehicle 
 Entry fess & road permits 
 Taxes & surcharges 
 Mineral water 
 Set of traditional costume (to be return at the end of your stay) 
WHAT'S EXCLUDED
Flight into Bhutan via Drukair (can be arranged with us) 
 Flight on other airline to catch Drukair Flight 
 Meals at 4-5 stars restaurants 
 Hotel stay outside of Bhutan 
 Expenditure of personal nature 
 Travel Insurance (can be arranged with us) 
 Tips for the guide and driver 
 Alcoholic drink 
ON TREK INCLUDES
Sleeping tents
 Dinning tents
 Toilet tents
 Shower tents
 Toilet seats 
 Mats
 Duffel bags
 Cooking untensils
 All meals
 Guide
 Trek chef assistant and horses 
PACKING LIST FOR TREK
Technical clothing
Down parka
Warm fleece jacket
Comfortable trekking boot (we like lowa)
Lightweight shoes
Rain gears
4 pair trekking socks
2 long sleeve capilene shirts
2 capilene bottoms (mid & heavy weight)
2 trekking shirts (non-cotton is best!)
Trekking pants (zip off shorts are nice)
1 pair shorts
1 bandana
Warm gloves
Flip flop (or similar camp shoes)
Warm hat
Sun hat
2 pair sunglasses
Equipment
Small daypack
Waterproof duffel for gear
Warm sleeping bag (negative 8-10 degree celcius)
Trekking poles
Mud guard
Headlamp and a normal torch
Camera and extra batteries
Earplugs
2-liter water bottle (if camelback, bring also a nalgene)
Insulated drinking mug
Small towel
Rain gears
Various size plastic bags to keep gear dry and separate
Others
Anti bacterial hand gel for disinfecting hands
Medical kit that includes – aspirin, motion sickness tablets,
cough drops, diamox, bites/burn cream and small bandage.
Lightweight toilet articles (shampoo, soap-travel size)
Sunscreen, lip screen and insect repellent
Water purification tablets (iodine or chlorine)
High calorie snacks and energy bars
Prescription medications
Some books to read at camp
Breakfast: Toasts, eggs, fruit juice, tea and coffee, some additional proteins such as sausages and hams. Oatmeal, drinking chocolates, baked means, peanut butter are also served.
Lunch: Rice, nodules, vegetables, meat, fruits, boiled egg or potatoes, juices, hot tea and coffee.
Dinner: Rice, chicken, fish, pork or beef, soup, tea and coffee. Local dishes such as momos, noodle thukpa, and emadatse (chilly-cheese) is served.
Water: Boiled water is supplied on trek.