MERAK AND SAKTANG TREK(07 DAYS)
Duration: 7 days
Seasons: September to April
Start: Chaling
Finish: Phongmay
Merak-Sakteng stands out as a distinct attraction in Bhutan. Unlike anywhere else in the country, it offers a visitor to experience a unique semi-nomadic lifestyle, culture and vernacular in one of the most scenic pastoral valleys in the protected area of Sakteng Wildlife Sanctuary (SWS) in Trashigang Dzongkhag (District), in Eastern Bhutan.
It is a moderate trek (between 1,500m and 4,100m) traversing through the semi-nomadic villages of Gengu (3400m), Merak (3500m), Sakteng (2800m), Thakthi (2200m), and Joenkhar (1700m). Tour operators are not mandated to use a particular trail but the most common trail usually begins from Chaling and ends in Phongmey. Both these Geogs of Merak and Sakteng are an important watershed for Ngere Ama chu and Gamri chu rivers respectively.
The campsites have been designed aesthetically to blend with local architecture and ambiance. Enclosed by a stonewall (with a gate to bring in the ponies to unpack trekking paraphernalia), the campsite is equipped with facilities such as tenting sheds, toilets, kitchens (in some), dining area and water supply. A signage describing the location, altitude, forest type, fauna, additional hiking trails in the locality, distance and time to next camp welcomes a visitor to each campsite
DETAILED ITINERARY
DAY 1: CHALING – DAMNONGCHU
The trek to Merak will start from Chaling reached by following an unsealed road from Rangjung. Damnongchu camping area is located after Mindrula which lies at about 3354m / 10,880ft. You will see yaks and sheep grazing with yak herders' huts dotted on the hills side. Climb further to reach Mendula Pass at 3354m. From this pass, you will descend through rhododendron forests to Donmong Chu camp at 3124m.
DAY 2: DAMNONGCHU – MERAK
5 hours, camp altitude 3,499 m.  The trail from Damnongchu to Merak goes along the river bank with gradual ups and downs. The trail from Domong Chu to Merak mostly follows the river bends. The final stretch has gentle ascend before you reach Gangu village. After another 45 minutes walk from this village, you will arrive at Merak located at an altitude of 3520m. The campsite located before the village has spectacular views of nearby mountains and village. Visit the local village to experience the life of this people.
DAY 3: MERAK – MIKSA TENG
The trek from Merak to Miksa Teng is long and of medium difficulty. It will pass through the beautiful Nagchungla pass (approx 4,100m / 13,451ft). From the campsite climb gradually to the first pass at 3900m from where you can have last glimpse of Merak valley. Continue the trek along the tree line of juniper and rhododendron forests and conquer the Nachungla pass. Then you will descend to your camp Miksateng at 3080m surrounded by rhododendrons.
DAY 4: MIKSA TENG – SAKTENG
Trek to Sakteng from Miksa Teng is easy making your way through beautiful woods with a short climb before reaching Sakteng. you will climb gradually to a hill adorned by small Chorten (Stupa) overlooking the Sakten valley. If you are lucky, you can spot red panda among the trees. Descend down from the ridge and camp on the outskirts of the Sakten village at 2950m.
DAY 5: SAKTENG DAY HALT
Time to explore this remote Himalayan village.
DAY 6: SAKTENG-JOENKHARTENG
Leaving Sakten, start with short climb to the small hill towards the west end of the village. Then descend down to the river and walk alongside it through the broad leaf forests. We camp in a beautiful meadow near the river by Joenkhar Teng village (1800m). Joenkhar Teng is situated on the hillside and its population comprises of Brokpa and Sharchopa with a community school and outreach clinic.
DAY 7: JOENKHARTENG-TRASHIGANG
The last day of the trek begins with short climb through the Joenkhar Teng. Crossing the suspension bridges, you will climb shortly to Phongmay village. Meet your transport and drive to Trashigang. On the way, stop at Rangjung and visit the Rangjung Monastery, which is founded by His Eminence Garab Rinpoche.
MAP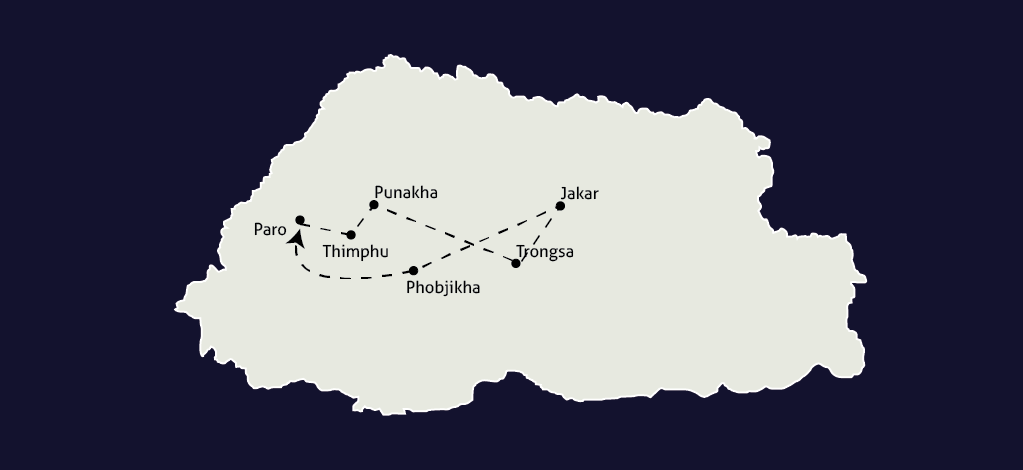 WHATS INCLUDED
Private guided tour 
 Visas for Bhutan 
 Airport transfers 
 Daily 3 meals 
 3 star accommodation 
 A qualified & licensed English-speaking guide 
 An experienced driver 
 A tour vehicle 
 Entry fess & road permits 
 Taxes & surcharges 
 Mineral water 
 Set of traditional costume (to be return at the end of your stay) 
WHAT'S EXCLUDED
Flight into Bhutan via Drukair (can be arranged with us) 
 Flight on other airline to catch Drukair Flight 
 Meals at 4-5 stars restaurants 
 Hotel stay outside of Bhutan 
 Expenditure of personal nature 
 Travel Insurance (can be arranged with us) 
 Tips for the guide and driver 
 Alcoholic drink 
ON TREK INCLUDES
Sleeping tents
 Dinning tents
 Toilet tents
 Shower tents
 Toilet seats 
 Mats
 Duffel bags
 Cooking untensils
 All meals
 Guide
 Trek chef assistant and horses 
PACKING LIST FOR TREK
Technical clothing
Down parka
Warm fleece jacket
Comfortable trekking boot (we like lowa)
Lightweight shoes
Rain gears
4 pair trekking socks
2 long sleeve capilene shirts
2 capilene bottoms (mid & heavy weight)
2 trekking shirts (non-cotton is best!)
Trekking pants (zip off shorts are nice)
1 pair shorts
1 bandana
Warm gloves
Flip flop (or similar camp shoes)
Warm hat
Sun hat
2 pair sunglasses
Equipment
Small daypack
Waterproof duffel for gear
Warm sleeping bag (negative 8-10 degree celcius)
Trekking poles
Mud guard
Headlamp and a normal torch
Camera and extra batteries
Earplugs
2-liter water bottle (if camelback, bring also a nalgene)
Insulated drinking mug
Small towel
Rain gears
Various size plastic bags to keep gear dry and separate
Others
Anti bacterial hand gel for disinfecting hands
Medical kit that includes – aspirin, motion sickness tablets,
cough drops, diamox, bites/burn cream and small bandage.
Lightweight toilet articles (shampoo, soap-travel size)
Sunscreen, lip screen and insect repellent
Water purification tablets (iodine or chlorine)
High calorie snacks and energy bars
Prescription medications
Some books to read at camp
Breakfast: Toasts, eggs, fruit juice, tea and coffee, some additional proteins such as sausages and hams. Oatmeal, drinking chocolates, baked means, peanut butter are also served.
Lunch: Rice, nodules, vegetables, meat, fruits, boiled egg or potatoes, juices, hot tea and coffee.
Dinner: Rice, chicken, fish, pork or beef, soup, tea and coffee. Local dishes such as momos, noodle thukpa, and emadatse (chilly-cheese) is served.
Water: Boiled water is supplied on trek.