SNOWMAN TREK I TO SEPHU(25 DAYS)
Duration: 25 days, Max. Elevation: 5,320m
Seasons: Mid June to Mid October
Start: DrukgyelDzong (Paro)
Finish: Sephu (Trongsa)
The Snowman Trek is an extension of the beautiful Laya Gasa Trek, and leads from Laya into high altitudes of the Bhutanese Himalayas. It takes tough and enduring trekkers into the Lunana region and further on to Gangkhar Puensum and Bumthang or down to Sephu in Trongsa district, depending on which route you choose. The Snowman trek leads through the most remote areas up to very high altitudes. Trekkers have to camp in altitudes above 5,000m more than once, and depending on the seasonal temperatures, the camps are sometimes on snow.
DETAILED ITINERARY
DAY 1: GUNITSAWA VILLAGE – SHARNA ZAMPA
[50mins], [70m descent], [camp altitude 2,880m]. This trek begins at Gunitsawa Village were you pass the army post. At the army checkpost your trek permit (provided by your tour operator) will be checked and endorsed. The campsite is on the opposite side of the river, not far from Gunitsawa. This is the last stop before Tibet and border close to it. You will then cross Pachu River on a wooden bridge and then climb to Sharna Zampa at 2,880m. Just beyond Shana Zampa, there are several meadows surrounded by trees where you will camp for night.
DAY 2: SHARNA ZAMPA – THANGTHANGKHA
[Distance 20 km], [7-8 hours], [ 680m ascent], [20m descent],[ camp altitude 3,710m]. On this long day, the trail continues with lots of small ups and downs. After going uphill through the river valley the valley finally narrows gradually to a mere path which descends to a meadow where a hot lunch will be served after crossing the bridge towards the left side of the river. Little ahead is the trail junction – left an old trade route and invasion from Tibet and right leading to the wooden bridge (we follow the right). After climbing up through rhododendron forests and finally crossing the bridge again, we reach our camp at 3710m, which is amidst beautiful meadows.
DAY 3: THANGTHANGKHA – JANGOTHANG
[Distance 19 km],[ 5-6 hours],[ 370m ascent], [camp altitude 4,060m]. If you did not see Mt. Jomolhari the previous evening, you will still have a chance to get a great view early this morning. This morning the trek continues up the Paro Chhu valley which widens into patches of alpine meadow and  we walk our final approach across a plateau and up a stream bed and Dangochang village to the awesome campsite of Jangothang at an altitude of 4,060m. From here, the views of Mount Jumolhari(7,327m) and Jichu Drake(6,664m) are superb.
DAY 4: JANGOTHANG HALT
The rest day in Jangothang provides plenty of possibilities for day hikes with great views of lakes and snow capped mountains such as Jomolhari and Jichu Drake. There are good chances to spot some blue sheep on the upper slopes of the valley. Jangothang is a perfect environment for your acclimatization and exploration.
DAY 5: JANGOTHANG – LINGSHI
[Distance 16km], [6-7  hours], [720m ascent], [960m descent], [camp altitude 3,950m]. The trail leads to a last settlement in the valley and drops to the Paro Chhu. Passing the lake of Tshophu (4,380m) you will climb up steeply to Bhonte La pass at 4,890m, the highest point of this trek rout then walk towards the valley, almost flat for a while, until you climb to the Ngye La pass at an altitude of (4,600m). After the pass, it is a gradual descent to the camp, enjoying the panoramic view of the surrounding peaks and Lingshi Dzong.
DAY 6: LINGSHI – CHEBISA
[Distance 10 km],[ 5-6 hours],[100m ascent], [330m descent],[ camp altitude 3,860m]. Today is the shortest walking day, and you can really take it easy. Shortly after starting you will reach a chorten below Lingshi Dzong. Here, you have the choice of staying on the main trail or taking a detour  and after lunch, a short walk will take you to Chebisa, a charming little village adorned with a beautiful crystal clear waterfall. Camp by the side of stream at an altitude of 3,860m.
DAY 7: CHEBISA – SHOMUTHANG
[Distance 17 km], [6-7 hours], [760m ascent], [350m descent], [camp altitude 4,250m]. The morning starts with a long ascent behind Chebisa Village (2-3 hours) through a wide pastureland towards Gobu La (pass). On the way, you will see a few people herding yaks.  From there, we walked down through a thick rhododendron forest until our next camp in Shakshepasa at 3980m. Climbing steeply up to the northern side of the valley and passing by a couple of yak herder's camp, we arrive at our camp, which is beside a stream at an altitude 4,250m.
DAY 8: SHOMUTHANG – ROBLUTHANG
[Distance 18 km], [6-7 hours],[ 50m ascent], [460m descent], [camp altitude 4,200m]. The trek starts by walking through edelweiss bound trail with a climb to Jari La pass at altitude 4,760m. The snow capped peak visible to the south-east is Kangbum at 6526m. Then descend to Tsarijathang valley, the summer residence of rare Himalayan Takins (national animal of Bhutan). From here we may have to cross the stream as most of the time the footbridge is washed away. After crossing the stream towards the left, the trail ascends till you reach Robluthang, a rocky meadow camp at an altitude of 4,200m.
DAY 9: ROBLUTHANG – LIMITHANG
[Distance 19 km],[ 6-7 hours], [850m ascent], [870m descent], [camp altitude 4,140m]. The trek starts out with an initial 40-60mins ascent before gradually raising for another 1.5 hours through a boulder field.  It is then a 1 hour steep ascent before reaching Sinche La (5,005m).The view of snow-covered Gangchenta or the Tiger Mountain (6,840m) filling the northern horizon is simply stunning. After the pass, descend through rough rocky trail following moraine river valley to Kango Chhu River. The path is quite narrow and you may have to cross a stream again and get wet. After walking through cedar forests we arrive Lingmethang (4,140m), which is a beautiful scattered meadow by the river with Tiger Mountain towering behind your campsite.
DAY 10: LIMITHANG-LAYA
[Distance 10 km],[3-4 hours], [camp altitude 3840m]In the morning you wake up with a superb view of Gangchenta peak in front of you. The walk to Laya is very pleasant with wonderful views. You will pass through a damp forest, filled with moss and singing birds. Arrive at Laya village, the second highest settlement in the country, at altitude of 3,800m.
DAY 11: REST / ACCLIMATIZATION DAY IN LAYA
Explore around Laya village. You can go and visit any of the houses around. Even to a perfect stranger, traditional Bhutanese hospitality is extended and a cup of tea and Chang (local, wine) always offered. The people in this valley are very interesting especially the women. They wear traditional black wool kiras and conical bamboo hats decorated with turquoise, silver ornaments and strings of beads.
DAY 12: LAYA – RHODUPHU
[Distance 19 km], [7-8 hour,[ 870m ascent],[ 230m descent], [camp altitude 4,160m]. From Laya we descend to an army camp and continue following the river till the turn off point to   Rhoduphu. The trail follows Rhodo Chhu valley, first through mixed conifers and then through rhododendron, above the tree line. From top of large rock-slide, there is a view of the glacial valley and a massive glacier on Tsenda Gang (7100 m). Our camp is at Rodophu at 4160 m just beyond a wooden bridge across the Rhodo Chhu river.
DAY 13: RHODOPHU – NARETHANG
[Distance 17 km],[5-6 hours],[ 740m ascent], [camp altitude 4,900m].   After following the river for about half an hour you will have a steady climb to a high open valley at 4,600m and then further up to Tsomo La (4,900m). Tsomo La offers a superb view of Lunana, Mount Jomolhari and Jitchu Drak.
DAY 14: NARETHANG – TARINA
[Distance 18 km],[ 5-6 hour],[ 270m ascent],[ 1,000m descent], [camp altitude 4,170m]. Ganglakarchung Pass at an altitude of 5120m. From the pass, the views of Kangbum (6530m), Tsendhen Gang (7100m), Teri Gang (7300m) and Jejegangphu Gang (7120m) are superb. You will descend through massive moraines to the edge of straight cliff with views of glacial hanging from Teri Gang that forms two turquoise-colored lakes at the base. The lake towards the left in 1961 due to outburst has caused a flood downstream in Punakha destroying the Mochu Bridge. Descend through a steep path to the U-shaped valley following the Tangchu stream towards right to arrive at your camp at 4170m.
DAY 15: TARINA – WOCHE
[Distance 16 km], [6-7 hours],[ 210m ascent], [350m descent],[ camp altitude 4,210m].   The walk leads down through conifer forests following the upper ridges of the Pho Chhu, passing some impressive waterfalls. The trail then climbs over a ridge and drops to Woche, a settlement of a few … you will be making a steep ascent to Woche Village, the first settlement in Lunana region at an altitude of 4210m. The Woche village marks the beginning of the Lunana region and above the village, you will see tomorrow's route to Ledhi.
DAY 16: WOCHE – LHEDI
[Distance 17 km], [6-7 hours],[ 780m ascent],[ 960m descent],[ camp altitude 4,200m]. Start climbing up the Woche valley and cross a small stream to go over a moraine. You will then descend to a wooden bridge across a Woche Chu River and climb up past a clear glacial lake to reach Keche La pass (4650m) with magnificent views of nearby mountains including three-prong peaks of Jejegangphu Gang mountain. From the Thaga village, we descend passing few scattered settlements, waterfalls and reach Lhedi (4200m) after walking along the Phochu River bed. Lhedi village consists of a school, Basic Health Unit and a wireless station.
DAY 17: LHEDI – THANZA
[Distance 17 km], [ 7-8 hours],[ 450m ascent], [camp altitude 4,150m].   In clear weather, you will have great views of Table Mountain (7,100m).  Around lunchtime you will pass the small village of Chozo (4,090m) which has a dzong still in use. Reaching Thanza again you will have a gre…
DAY 18: REST DAY AT THANZA
In Thanza walk around and experience some village life or climb up the ridge for fascinating views of lakes and mountains. But as it takes time to arrange new yaks (the yaks from Laya will not go further than Thanza) you might have to spend one day at Thanza anyway.
DAY 19: THANZA – DANJI
[Distance 8 km], [three to four hours],[ 80 ascent], [camp altitude 4,230m].   From Thoencha, the trail climbs up to a large boulder from where you will have excellent views of Thanza, Toencha and Choso village and the surrounding mountains. After a few hours of relatively flat and easy walking, you …
DAY 20: DANJI – TSHOCHENA
[Distance 12 km], [5-6 hours], [880m ascent], [340m descent], [camp altitude 5,000m].   Having chosen the route to Sephu, the trek crosses the creek and after a long climb, you will reach Jaze La (5,320m) with spectacular panoramic mountain views . The path then descends between snow covered peaks and lakes to Tshochena at 5000m.
DAY 21: TSHOCHENA – CHUKARPO
[Distance 14 km],[ 4-5 hours],[ 230m ascent],[ 150m descent], [camp altitude 5,050m]. You follow the bank of the blue green lake before arriving at a ridge at 5,100m, where there is another spectacular view in all directions. After going up and down over small hills to reach a glacial lake, th…
DAY 22: CHUKARPO – THAMPE TSHO
[Distance 18 km], [five to six hours], [400m ascent], [ 80 descent], [camp altitude 4,310m].   The descent continues along the river till you reach the yak herder huts at Gala Pang Chhu (4010m). From here the trail climbs steeply towards Thampe Tsho, a beautiful clear turquoise lake, We will camp at end of the lake at 4310m.
DAY 23: THAMPE TSHO – MAUROTHANG
[Distance 14 km],[ 4-5 hours],[ 330m ascent], [1020m descent],[ camp altitude 3,610m].   From the lake you climb steeply to the last pass on your trek, the Thampe La (4,600m) with a good chance to spot some blue sheep on the way. Then the path descends to the sacred lake Om Thso.The trail finally meets the left bank of Nika Chu River. After sometime, we reach to a large open area close to the confluence a major tributary flowing from east. We will then cross a wooden bridge and walk along mixed forests to reach Maraothang (3610m), which is a wide open area with yak herder's camp and your last night camp.
DAY 24: MAUROTHANG – SEPHU
[Distance 18 km], [ 5-6 hours], [990m descent].   On the last day of this extraordinary trek your porters will have to change from yaks to horses as the yaks will not be willing to go further down. The path follows the Nikka Chhu to reach a large grassy area overlooking the road and the villa…
DAY 25: SEPHU
 where the first hot showers is awaiting you in nearly after a month.
MAP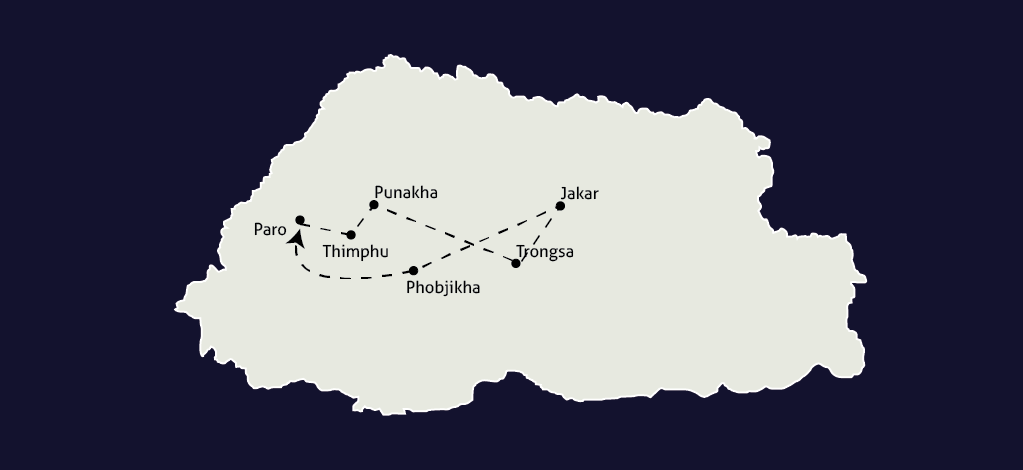 WHATS INCLUDED
Private guided tour 
 Visas for Bhutan 
 Airport transfers 
 Daily 3 meals 
 3 star accommodation 
 A qualified & licensed English-speaking guide 
 An experienced driver 
 A tour vehicle 
 Entry fess & road permits 
 Taxes & surcharges 
 Mineral water 
 Set of traditional costume (to be return at the end of your stay) 
WHAT'S EXCLUDED
Flight into Bhutan via Drukair (can be arranged with us) 
 Flight on other airline to catch Drukair Flight 
 Meals at 4-5 stars restaurants 
 Hotel stay outside of Bhutan 
 Expenditure of personal nature 
 Travel Insurance (can be arranged with us) 
 Tips for the guide and driver 
 Alcoholic drink 
ON TREK INCLUDES
Sleeping tents
 Dinning tents
 Toilet tents
 Shower tents
 Toilet seats 
 Mats
 Duffel bags
 Cooking untensils
 All meals
 Guide
 Trek chef assistant and horses 
PACKING LIST FOR TREK
Technical clothing
Down parka
Warm fleece jacket
Comfortable trekking boot (we like lowa)
Lightweight shoes
Rain gears
4 pair trekking socks
2 long sleeve capilene shirts
2 capilene bottoms (mid & heavy weight)
2 trekking shirts (non-cotton is best!)
Trekking pants (zip off shorts are nice)
1 pair shorts
1 bandana
Warm gloves
Flip flop (or similar camp shoes)
Warm hat
Sun hat
2 pair sunglasses
Equipment
Small daypack
Waterproof duffel for gear
Warm sleeping bag (negative 8-10 degree celcius)
Trekking poles
Mud guard
Headlamp and a normal torch
Camera and extra batteries
Earplugs
2-liter water bottle (if camelback, bring also a nalgene)
Insulated drinking mug
Small towel
Rain gears
Various size plastic bags to keep gear dry and separate
Others
Anti bacterial hand gel for disinfecting hands
Medical kit that includes – aspirin, motion sickness tablets,
cough drops, diamox, bites/burn cream and small bandage.
Lightweight toilet articles (shampoo, soap-travel size)
Sunscreen, lip screen and insect repellent
Water purification tablets (iodine or chlorine)
High calorie snacks and energy bars
Prescription medications
Some books to read at camp
Breakfast: Toasts, eggs, fruit juice, tea and coffee, some additional proteins such as sausages and hams. Oatmeal, drinking chocolates, baked means, peanut butter are also served.
Lunch: Rice, nodules, vegetables, meat, fruits, boiled egg or potatoes, juices, hot tea and coffee.
Dinner: Rice, chicken, fish, pork or beef, soup, tea and coffee. Local dishes such as momos, noodle thukpa, and emadatse (chilly-cheese) is served.
Water: Boiled water is supplied on trek.