LIFE OF A BHUTANESE (08 DAYS)
Village Home stay is the best way to experience the true culture and the way of Bhutanese life. The friendly people, simple lifestyle and the traditional communities is worth the experience to cherish for a lifetime. Life here moves at much slower pace than in bigger towns, and for those who relish the quiet calm of the rustic life, this is possibly as good as it gets. You will not just be immersed in the lifestyle of the locals but will also quickly establish a bond with the warm and welcoming families who will treat you like family. Unlike most places, it's NOT at all commercialized.
Visitors will experience the full spectrum of village life. Try the Khuru (dart) and Dego (flat stone) game. Home cooking spicy Bhutanese dishes lessons will surely be a memorable part of your stay. The wide variety and sumptuousness of painstakingly prepared dishes can sometimes be enough to confuse most people. You will learn how to prepare the local food. This might include gathering, cooking and washing it as well!! Be a part of the family. Experience the true Bhutanese lifestyle and traditions that have been preserved for ages.
Please be warned that in some villages where we take you, there is no electricity and running water. Toilets are usually outside.
DETAILED ITINERARY
Please write to us for the detailed itinerary. Itinerary has been withheld to retain the exclusiveness and to protect our unique products.
MAP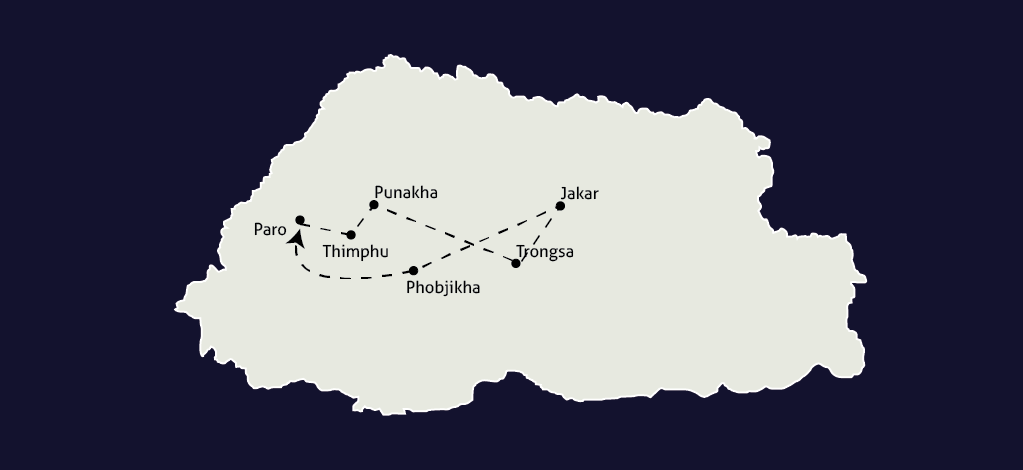 WHATS INCLUDED
Private guided tour 
 Visas for Bhutan 
 Airport transfers 
 Daily 3 meals 
 3 star accommodation 
 A qualified & licensed English-speaking guide 
 An experienced driver 
 A tour vehicle 
 Entry fess & road permits 
 Taxes & surcharges 
 Mineral water 
 Set of traditional costume (to be return at the end of your stay) 
WHAT'S EXCLUDED
Flight into Bhutan via Drukair (can be arranged with us) 
 Flight on other airline to catch Drukair Flight 
 Meals at 4-5 stars restaurants 
 Hotel stay outside of Bhutan 
 Expenditure of personal nature 
 Travel Insurance (can be arranged with us) 
 Tips for the guide and driver 
 Alcoholic drink